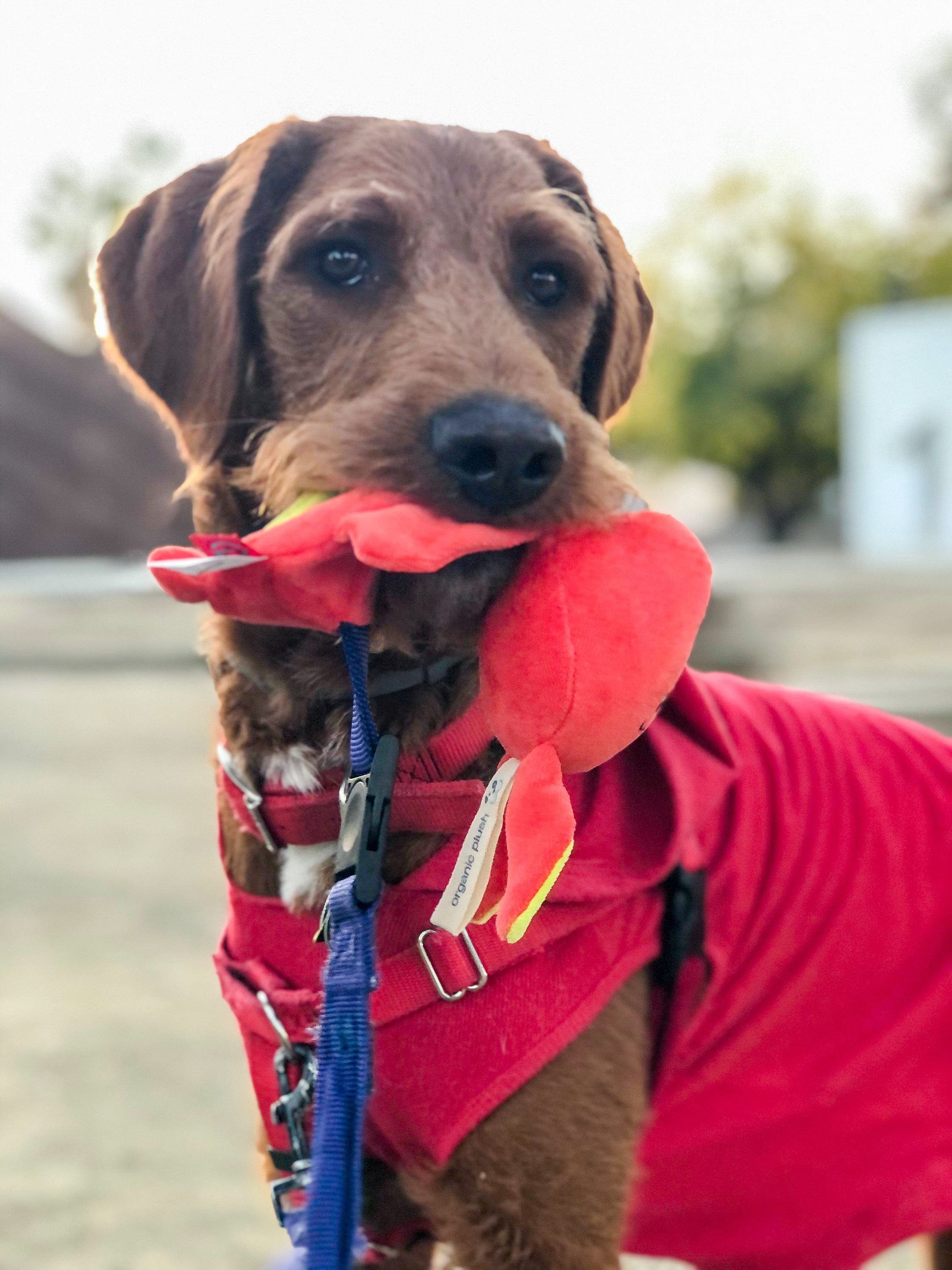 Last week we talked about the importance of leashes. For this article, we wanted to expand on why we use the We Leash. Since we educate our dogs through the bond-based method, it is important that our dogs feel comfortable and secure while walking on their leash. Dogs should feel confident while exploring new surroundings and using a We Leash can provide that for them. Now, we'll talk about the benefits of the We Leash.
1. It Has Two Handles
The We Leash is designed to provide dogs the opportunity to hold a handle on their leash. That's right! There are two handles on the We Leash: one for the handler and one for the dog. The handle the dog holds can give the dog a sense of control and freedom. The creator of the We Leash, Jennifer Arnold, said that it's like holding your dog's hand while walking. Additionally, the second handle can be easily snapped on and snapped off at your convenience. We don't expect dogs to hold onto it the entirety of their walk so the second handle being detachable is a great feature. Lastly, the second handle is longer and looser than the first handle. It was made that way so that dogs don't feel restrained!
2. You Can Attach Binkies, Toys, Or Treats To It
Taking a walk can be fun on its own but it can now be taken to the next level by being able to attach objects to it! The We Leash shop has toys and binkies designed to be attached to the dog's handle. There are a couple of different toys to choose from like a giraffe, chicken, and an aardvark. You can also attach a rawhide to it or any of your dog's favorite toys. Being creative with this is up to you and your dog because you know your dog's preferences. After all, this is the dog's handle, and putting something on there that will excite, will make them enjoy their walk even more than before!
3. It Can Improve Confidence
The We Leash can improve a dog's confidence because it is not restraining and it allows the dog to feel in control. Not only does the second handle increase the connection between dog and handler, but it also gives the dog the feeling that they are leading their walk. Having a dog walk confidently in new surroundings is what the We Leash is all about. 
But what if you didn't introduce your dog to a We Leash as a puppy? 
Good news! You can still introduce them to it as an older dog. Like most things that are new to a dog, you will have to take your time to introduce them to it. Here are some tips for how to introduce the We Leash to dogs:
Have fun with the handle and play with it to excite your dog. This will help your dog hold it.
Begin walking once your dog is holding his handle. If your dog lets go of his end, try getting him excited again.
If your dog doesn't seem excited, this is where your creativity and their favorite toys come in handy. Try attaching those on the dog's handle. 
Be patient with your dog. Every dog will learn at their own pace so encourage and praise them when they accomplish a step, even if it's a small step. If you want more information visit the We Leash website. We hope you give the We Leash a try!
---
Help save lives and donate to our cause!
New Life K9s places service dogs with veterans and first responders with PTSD at no cost to the veterans and first responders.
---
References:
"Why The We Leash." Accessed January 20, 2021.
https://wefordogs.com/pages/why-the-we-leash