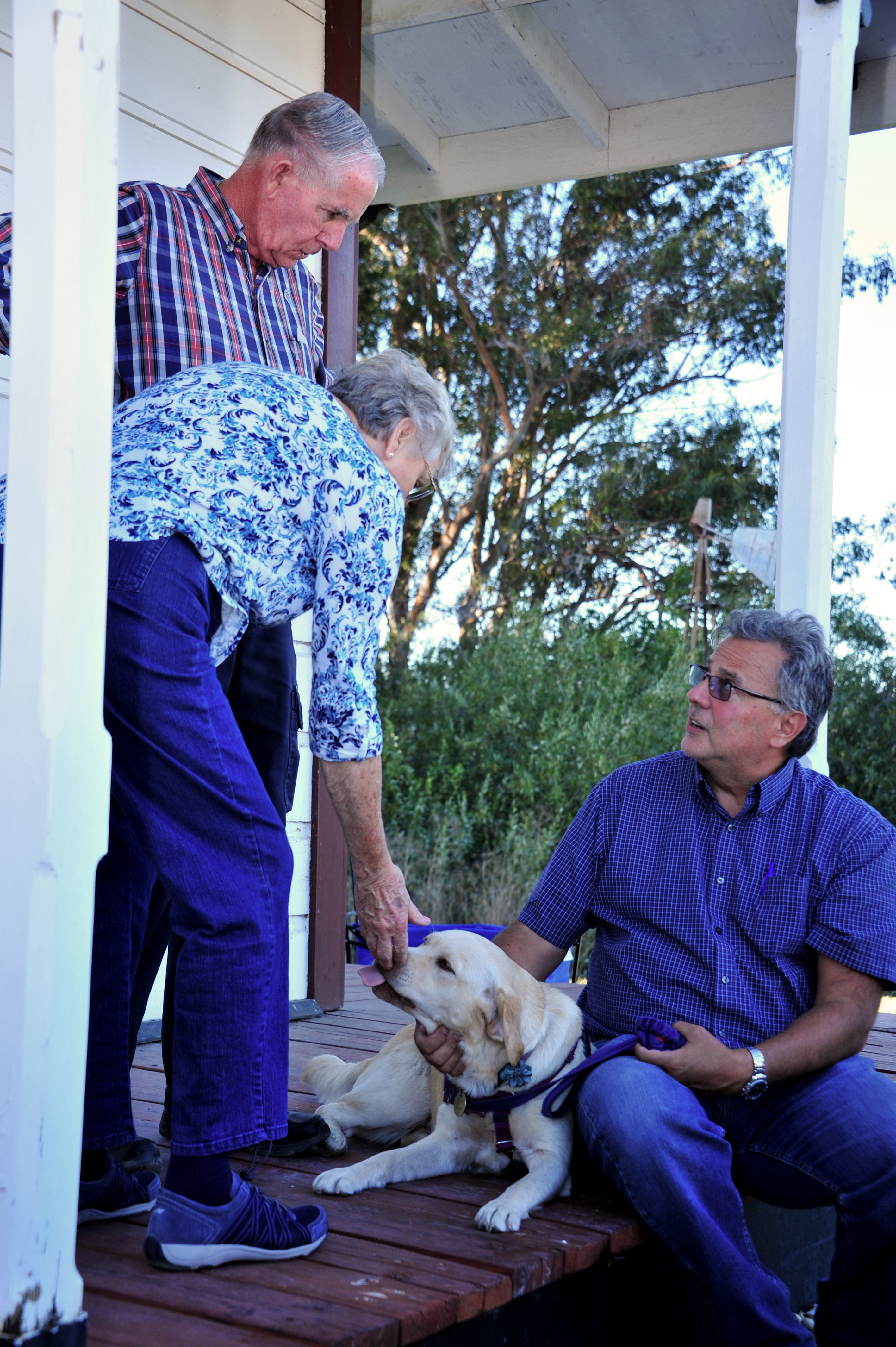 More than a Companion
The companionship of a service dog, not unlike having a good friend nudging you to get out of the house and go to a gym instead of sitting in front of the TV, has been shown to increase an individual's participation in leisure activities and social interactions. The lifestyle that comes with caring for a dog can be a positive incentive to participate in diverse activities, especially ones you might not regularly do without a canine companion—and can certainly improve your quality of life. While untrained companion dogs can also be beneficial, research finds that service dogs in particular—trained to assist a challenged or disabled owner—provide a greater level of support and motivation, and help an individual thrive in different ways than companion dogs. As a service dog's owner, taking on the role of its caregiver also instills a sense of formal responsibility, imparts new daily routines, and fosters a mutual bond towards each other's safety and wellbeing.
Lifestyle benefits and shifting perceptions of accessible activities 
Caregivers of service dogs can experience shifts in their perceptions of leisure activities, most notably their view of what activities are accessible to them due to this responsibility and relationship. This dynamic can create opportunities to promote an individual's quality of life such as:
Increased outdoor excursions
Lifestyle structural shifts
Heightened level of security and confidence
Improved ability to create positive social environments and interpersonal skills
Let your dog open the door—to new social connections! 
While it is well established that dogs can bring a sense of security or safety to their owners, this aspect of a canine bond is even more relevant to individuals who experience PTSD. Such individuals have a higher likelihood of facing challenges when trying to enjoy leisure activities or participating in successful social interactions. For example, research has found that disabled individuals with dog companions were significantly more likely to be acknowledged socially than those without dogs and eight times more likely to have a positive interaction in a social situation. Being able to say, "This is my service dog," or merely fitting your dog with an appropriate harness or vest, provides an opportunity to broach the subject of one's disability. 
Specialized training = Specialized support abilities
It is also important to highlight that service dogs truly can provide a specialized level of support beyond untrained companion dogs. Research demonstrates that when it comes down to providing companionship and a support structure to individuals with PTSD as well as those with a spectrum of other challenges or disability categories, trained service dogs outperform companion dogs. Ultimately, when working with a service dog, the goal is for the owner/caregiver to gain maximum benefit from a service dog's support abilities and have these be customizable to best reflect the owner's unique needs so as to improve their quality of life as much as possible. 
---
Help save lives and donate to our cause!
New Life K9s places service dogs with veterans and first responders with PTSD at no cost to the veterans and first responders.
---
References:
Gravrok, J., Howell, T., Bendrups, D., & Bennett, P. (2020). Thriving through relationships: Assistance dogs' and companion dogs' perceived ability to contribute to thriving in individuals with and without a disability. Disability and Rehabilitation. Assistive Technology, 15(1), 45-53. doi:http://dx.doi.org/10.1080/17483107.2018.1513574
 
Hicks, J. R., & Weisman, C. J. (2015). Work or play?: An exploration of the relationships between people and their service dogs in leisure activities. Journal of Leisure Research, 47(2), 243-262. doi:http://dx.doi.org/10.1080/00222216.2015.11950359