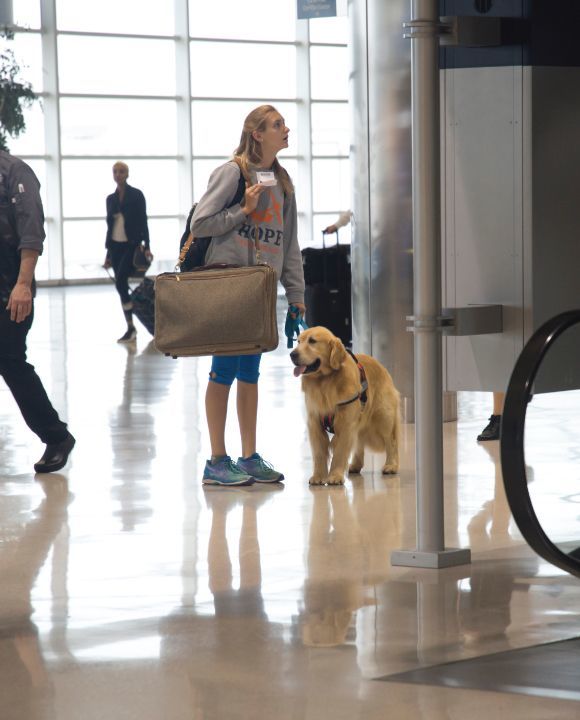 Currently, thanks to the Air Carrier Access Act, or ACAA, organized in part by the U.S. Department of Transportation, airline flights (to, within, and from the United States) are required to specifically acknowledge service dogs for transport in the cabin with their owners. These national flight policies greatly benefit service dog owners as well as demonstrate a positive step forward culturally in normalizing common disabilities within our communities. While there is still a necessity for procedural safety guidelines and practicality factors to be met through airline administration when planning a flight with a service dog, these processes are usually straightforward and generally unencumbering to their owners. 
Planning Your Trip
When organizing a flight with a service dog, it is especially important to plan, take the time to read your specific airline's service dog guidelines, and fill out the required paperwork. The Department of Transportation (DOT) Service Animal Air Transportation Form is standardized across airlines and a requirement for service dog travel. Additionally, this paperwork sometimes is required to be submitted 48 hours in advance of the flight so as to give adequate time for verification and flight staff preparation. This document basically consists of one page of information on the animal's health, training, and behavior so that the service dog can be issued an ID and to ensure it won't demonstrate behavioral problems during the flight. 
Realistic Limitations 
Commonly, a relatively understandable limitation for service dog air travel (in cabin) can be the animal's size. Specifically, a limitation is if the dog can't realistically sit on their owner's lap or at their feet under a cabin seat. Some other guidelines, for example with American Airlines as well as many others, is that the accompanying service dog must be over four months of age, and also no more than two service animals can qualify per individual on a flight. The service dog owner additionally cannot be seated in an exit row or allow their dog to block aisles or eat from tray tables. Naturally, further consideration must be taken for animals being transported on flights over eight hours long. In this case, an additional form called the DOT Animal Relief Attestation Form can be filled out so that an appropriate plan is arranged for the service dog to relieve itself without causing health or sanitation problems on the flight. 
Policy Evolution to Accommodate Takes Time and Sometimes Compromises 
While both owners and flight management can try their absolute best to be proactive and organized, there inevitably still are some circumstances where issues arise, such as when a passenger is allergic to dogs. Depending on the circumstances, and the severity of the allergy, the individual who is allergic can be relocated to the farthest seat from the service animal or alternative flights can be arranged. However, in many cases, service dog owners are granted priority accommodations. This is an evolving process for both service animals and individuals with health conditions such as allergies, which is not at all exclusive to animal dander allergies but other things such as food allergies as well. Not surprisingly, it is important to acknowledge industry and policy-wise, that there are still many evolving and unresolved factors both socially and politically in determining ideal travel environments. 
---
Want to help save lives? Donate to our cause!
New Life K9s places service dogs with veterans and first responders with PTSD at no cost to the veterans and first responders.
---
References:
Traveling by air with service animals. (2020). (). Washington: Federal Information & News Dispatch, LLC. Retrieved from Health Research Premium Collection Retrieved from https://search.proquest.com/reports/traveling-air-with-service-animals/docview/2468649360/se-2?accountid=143111
 
Wlodarczyk, J. (2019). When pigs fly: Emotional support animals, service dogs and the politics of legitimacy across species boundaries. Medical Humanities, 45(1), 82-91. doi:http://dx.doi.org/10.1136/medhum-2018-011625
 
Do airlines treat pets on planes better than human passengers? (posted 2014-10-09 23:43:27): Airlines have to allow service animals on planes. but what if someone's allergic? (2014).
 
U.S. Department of Transportation. (n.d.) Retrieved April 20, 2021, from
https://www.transportation.gov/individuals/aviation-consumer-protection/service-animals
 
American Airlines. (n.d.). Retrieved April 20, 2021, from https://www.aa.com/i18n/travel-info/special-assistance/service-animals.jsp