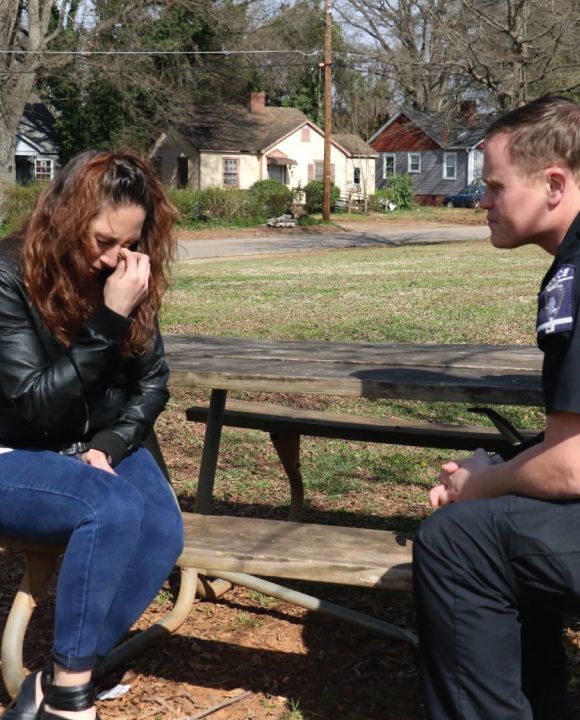 Each week we encounter new stories in the news about law enforcement working with individuals who have mental illness and find themselves struggling to navigate moments of crisis effectively. A few of us even have personal stories or friends and family who have been in situations themselves. In the best case, a situation is successfully resolved and deescalated. However, we know all too well that sometimes mental health crisis situations can instead lead to a devastating loss of life or incarceration for one or both parties involved when a standoff occurs, and the safety of others also becomes a risk. 
One of the mechanisms that our national and international communities are building to help prevent these worst-case scenarios from occurring is the establishment of Crisis Intervention Team (CIT) programs. Simply put – communities are giving law enforcement departments tools and specialized team members who focus on mental health crisis and de-escalation situations. 
What is a Crisis Intervention Team (CIT)? 
The CIT program is a first-responder model designed to facilitate a community partnership of professionals in law enforcement, mental health, and other support resources such as addiction treatment facilitators. It is a model for police-based crisis intervention training designed to aid individuals with addiction and mental disorders to be better directed towards medical treatment instead of being placed within the criminal justice system. These programs also help police officers stay safe while in the field and promote the safety of any individuals going through crisis who interact with law enforcement. 
Why are CIT programs important? 
It is painfully obvious in healthcare services across the United States, especially with the more recent added factor of COVID-19, that we need more mental health crisis services as a society. As a result, law enforcement departments in addition to their specialized services are now by default serving as first responders to the vast majority of crises and are often not equipped to navigate these situations successfully. While these situations are not new to law enforcement, we can't overlook that pressure has been added to all first responder communities in recent years with the mental health and economic impacts of the global pandemic. Due to the recognition of these needs, CIT programs now exist in over 2,700 communities nationwide, helping to improve communication channels and identification of mental health resources.
Some of the Basic Benefits of CIT programs
Gives police officers more peace of mind and tools and guidelines to navigate their work effectively
Decreases the number of individuals with mental illness who are arrested and increases the number of those who receive mental health services 
Brings together community leaders to fix the gaps in mental health resources
Helps to keep individuals with mental illness out of jail and directs them towards a road of recovery 
Provides more tools to police officers so that they can do their jobs effectively and safely 
In some places such as Detroit, community-based mental health treatment costs less per year (approx. $10,000) than an incarcerated individual with mental illness (approx. $31,000)
Allows law enforcement to focus on crime and puts them back in the community more quickly
 
---
Help save lives and donate to our cause!

New Life K9s places service dogs with veterans and first responders with PTSD at no cost to the veterans and first responders.
---
References:
CIT International. CIT International - What is CIT? (n.d.). Retrieved December 29, 2021, from https://citinternational.org/What-is-CIT 
 
Crisis intervention team (CIT) programs. NAMI. (n.d.). Retrieved December 28, 2021, from https://nami.org/Advocacy/Crisis-Intervention/Crisis-Intervention-Team-(CIT)-Programs
 
"Crisis Intervention Team." ​​Mecklenburg County Government, https://www.mecknc.gov/HealthDepartment/CommunityHealthServices/TJP/Pages/CIT.aspx.