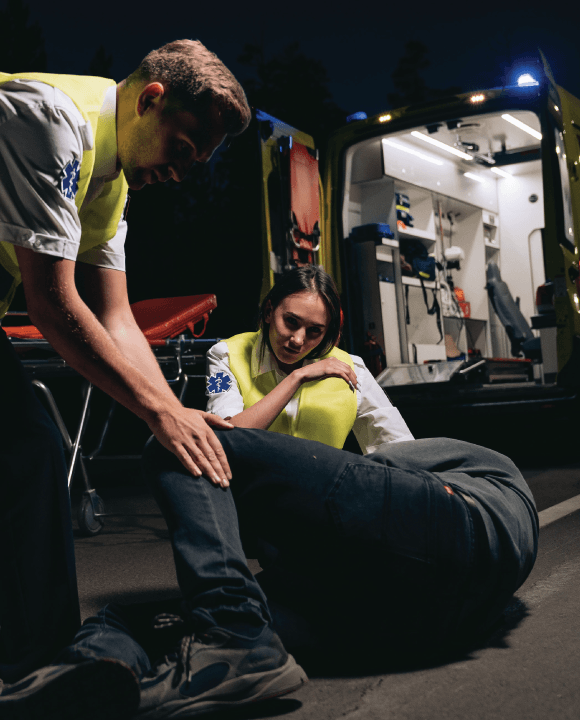 Mental Health First Aid is a course that teaches individuals basic skills such as how to identify, understand, and respond to signs of mental illness or substance use disorders. It is designed to give individuals who generally are not mental health professionals the skills that are needed to reach out and provide initial help and support to someone who could be developing a mental health condition, substance use problem, or is experiencing a crisis. 
The National Council for Mental Wellbeing, which conducts Mental Health First Aid trainings, has developed several customized programs for high-risk disciplines or disciplines that have a lot of exposure to the public. These disciplines are veterans, firefighters, emergency medical services, police officers, and teachers. Additionally, there are trainings designed for specific types of populations that face unique challenges including teenagers, older adults, and rural populations. 
Mental Health First Aid for Firefighters and Emergency Medical Services 
Research has firmly established that due to the conditions of their work first responders are more likely than the general population to develop behavioral health problems such as PTSD and depression. We also know that firefighters are more likely to die by suicide than on the job. 
The mission of Mental Health First Aid for this population is to help provide the fundamental skills or a foundational knowledge of which channels to pursue when a mental health situation arises. The goal is to provide enough information so anyone who completes the course can identify first steps and respond appropriately when a crisis occurs. It also teaches post-crisis strategies specifically for first responders. This is so that first responders can look at a situation through a mental health lens and access support for themselves as well as their colleagues if they find themselves in a difficult situation. 
Mental Health First Aid for Public Safety 
This course is designed to help police officers understand and identify signs of mental illnesses as well as provide them with a better range of options when working to de-escalate incidents. This training helps to facilitate safer and more positive outcomes for police officers as well as the public. These outcomes are achieved by working to reduce stigma by improving mental health and substance use literacy. This course provides education to safely address a colleague's mental health or substance use by modeling de-escalation techniques to safely respond to people in crisis, and by improving the way law enforcement interacts with individuals experiencing mental illness or addiction. 
History 
The Mental Health First Aid Program was originally developed in Australia in 2002 by Betty Kitchener and Anthony Jorm. Since its inception, over 3 million individuals have been trained worldwide in more than 23 different countries as of 2019. Today the program is included in the United States Substance Abuse and Mental Health Services Administration's (SAMHSA) National Registry of Evidence-Based Programs and Practices.
 
---
Help save lives and donate to our cause!

New Life K9s places service dogs with veterans and first responders with PTSD at no cost to the veterans and first responders.
---
Sources:
Mental health first aid for public safety. Mental Health First Aid. (2021, September 14). Retrieved March 30, 2022, from https://www.mentalhealthfirstaid.org/population-focused-modules/public-safety/ 
 
Study: Police officers and firefighters are more likely to die by suicide than in line of duty. Ruderman Family Foundation. (2018, April 10). Retrieved March 30, 2022, from https://rudermanfoundation.org/white_papers/police-officers-and-firefighters-are-more-likely-to-die-by-suicide-than-in-line-of-duty/ 
 
Wells, S. M. (2018, October 16). First Responders Suffer: How mental health first aid can help. Mental Health First Aid. Retrieved March 30, 2022, from https://www.mentalhealthfirstaid.org/external/2018/10/first-responders-suffer-how-mental-health-first-aid-can-help/