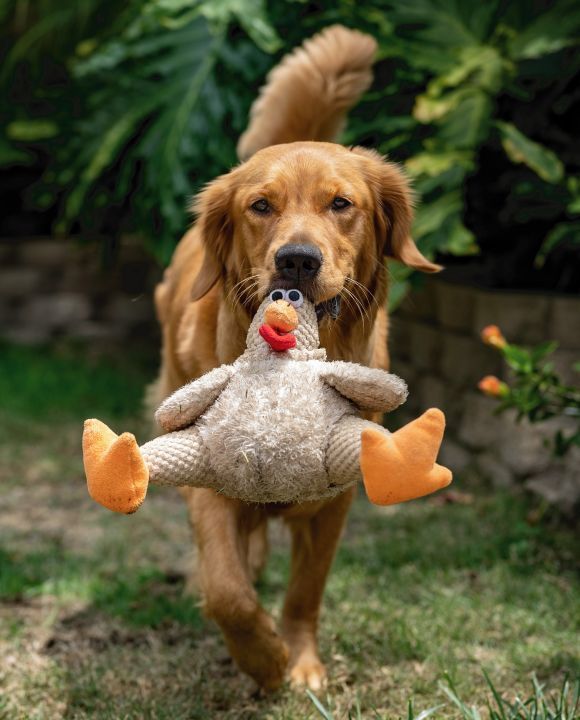 You may remember from past posts, Thor the pitbull and Lou, my mom's terrier mix. Well, let me tell you that these two dogs require very different types of playthings. The squeaky stuffed toy that works perfectly for Lou, is decapitated and mangled when Thor gets his paws on it.
Dogs use toys as an outlet to play and let out some energy. In today's post, we are going to help you determine which toy is best for your pup.
I know, the aisles at the pet store and the metaphorical aisles online are crammed with endless options of dog toys, big and small. Let's narrow those options down to find a toy best for your furry best friend.
I would first suggest considering your dog's size when choosing a proper toy. For example, Thor is a 63lb pit bull. Fluffy, stuffed toys with squeakers are fun for sure, but they last a total of two minutes before we have heads and limbs torn from the fluffy body. So, these toys are not the best bang for the buck. Lou, on the other hand, weighs in at around 25 lbs, adores his floof-filled squeaky toys, and they tend to last him months.
Below is a shortlist of what elements to consider when trying to choose a long-lasting and stimulating toy for your pup.
Be aware of your dog's size
As the example above demonstrates, the size of the dog will play a significant role in what type of toy to buy your dog.
 
Keep their personality in mind
Is your pup gentle and protective of their toys? Or do they ravage and gnaw aggressively?
 
Energy Level
Knowing your dog's energy level is another good indicator of what kind of toy to invest in. A high-energy pup might do well with fetch toys such as tennis balls or frisbees.
 
Mental stimulation
Is your pup a regular Einstein? Does he love mental stimulation? You may want to consider buying puzzle toys that will give him some mental stimulation.
Now that we know which elements to consider, we will look at the four basic types of toys out on the market.
1. Plush toys 
When I think of dog toys, my mind instantly thinks of the toys that have stuffing and a built-in squeaker. These are plush toys. Dogs usually enjoy chasing and squeaking these toys and even shaking and ripping them up to shreds. If your pup likes these toys, it is a good idea to allow them playtime under supervision. This will ensure that they don't swallow any parts. If your dog is aggressive or likes to gnaw, it is important to note that these toys probably won't last long. 
2. Non-plush 
If you have a larger dog, or a dog with a mighty grip, you will most likely want to consider a non-plush toy made of vinyl, rubber, or plastic. A thicker material is usually a good indication that the toy will last longer
3. Ball 
The basic tennis ball is good for dogs that like to retrieve. Again, you'll need to be considerate of your pup's size when choosing a ball. You want to choose a ball that is small enough to fit in the mouth, but not so small that the dog could swallow it. 
If your dog loves to catch and retrieve, you may also consider buying a frisbee to throw around.
4. Rope toys 
Made of braided ropes and knots, braided toys can incorporate rubber elements as well. Rope toys are great for gnawing and chewing. But remember that your dog can shred the rope, in which case the toy can become a hazard. 
5. Puzzle Toys
As mentioned earlier, if your dog loves a mental challenge, you may want to consider a puzzle toy. These are a great way to challenge your pup. These toys usually consist of a compartment where food is hidden and where a dog needs to solve how to retrieve the food. 
A dog's toy preference can be as colorful as their personalities.  Some can contain themselves around a squeaker, while others can leave them. Some may not even react to a ball being thrown, while a natural retriever will go wild for a simple tennis ball. Whatever your dog's preferences, be sure to experiment to see what toy best engages your dog's inner puppy.
To read more posts about dogs, check out more of New Life K9s' blog
 
---
Help save lives and donate to our cause!

New Life K9s places service dogs with veterans and first responders with PTSD at no cost to the veterans and first responders.