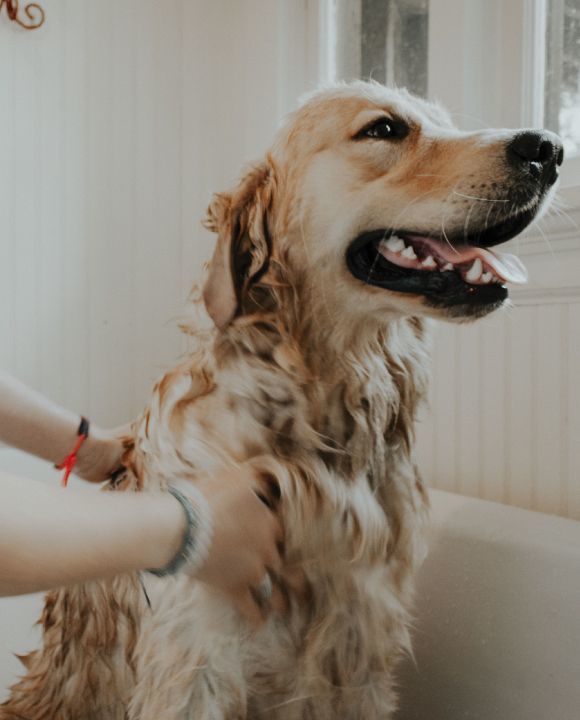 Between food, toys, accessories and those pricey veterinary visits, our love for our pets can get heavy on our budgets. But your love for your furry best friends doesn't always have to put a huge dent in your wallet.
In this week's post we will look at 7 tips to help you save money as a pet parent. 
1. Buying food and snacks in bulk 
This might seem like a no-brainer, but buying food and doggy snacks in bulk will last longer and save you in the long run. Just as it's budget-friendly to buy groceries in bulk, the same is true for dog food and treats. Buying large packs of doggy treats and 25lb or 50lb bags of dog food will be more budget-friendly in the long run. Comparing prices of dog food will ensure that you get the best price out there. 
If you are buying large amounts of dog food, the downside may be storage. Make sure you have ample space and proper storage. You'll want your food to stay fresh and free of any pests. Rubbermaid-type storage bins will keep your bulk food tidy and fresh.
2. Spay or neuter
Spaying and neutering your dog can lower medical costs over a lifetime, as unaltered dogs ‌suffer from more diseases and illnesses as they get older. 
Spaying and neutering your pup won't only help potential health issues in the future, but it can also keep other costs of owning a pet down. 
One example is pet registration. In San Luis Obispo County, the price to register a spayed or neutered pup is considerably lower than registering an unaltered pup, as is the case with most other counties.
3. Pet Insurance
It is important to keep your dog healthy, and it's a tragedy when a sudden pet expense puts your dog's health in the balance. But the good news is there is now pet insurance. Pet insurance works similarly to other types of health insurance. I would suggest talking with your veterinarian about the best pet insurance for your needs and to ensure that they will accept it.
4. Don't forget their teeth
A dog's teeth can be one of the easiest features to neglect in a pup. And who could blame you? I have yet to see any dog that willingly allows a person to brush their teeth.
But you do not ‌need to brush Fido's teeth with a brush to keep them healthy. There is plenty of dental chew for dogs nowadays. 
Just like spay and neutering, caring for your dog's teeth can help with long-term health care costs. 
5. DIY Grooming
If you have a dog breed that you can easily groom at home, then ‌consider DIY grooming. A few of the right supplies and some YouTube videos will get you started. My mom has been trimming her dog for years. Sure, at first it was a rough go, but with practice, she improved significantly.
You can also consider giving your pup a bath at home. If you don't have a bathtub or would prefer ‌doggy bath time outside the home, there are plenty of resources for self-serve dog washes. Lemos has a self-serve dog wash where you will have access to all the bathtime amenities. 
It is also likely that your pup will feel more comfortable with you as opposed to being in a strange place with a strange person. If you have the time, trimming your dog's fur and nails can keep grooming costs down.
6. DIY Dog Treats
You can skip the store-bought dog treats altogether and opt to make your own. The internet is chock-full of endless recipes. From jerky to peanut butter, a simple search will surely provide you with endless DIY dog treat ideas. 
The great part about making homemade dog treats is you'll know exactly what is in the ingredients. 
7. Repurpose or recycled pet toys
If your pup loves toys, you don't need to spend cash on a new toy every week. Second-hand toys from the thrift store are a great option. A second-hand store will have a pile of stuffed animals. A quick wash, and Voila, you have a toy that is brand new to your dog. I have even taken the plastic squeakers from destroyed dog toys and sewed them into a thrift store bear, just so that the toy would have the squeak. You can also find balls and frisbees at second-hand stores. 
If your pup already has a pile of toys, I would suggest keeping only a few out at a time and then rotating them out. When you do this, your pup will think they have a brand new toy when in actuality it's a toy they simply have not seen in a while. 
Final thoughts 
One last tip I have to save money is to keep an eye out for pop-up clinics in your area. Often you will see discounted spay and neuter clinics. Taking care of your dog is a necessity, but it doesn't always need to be pricey. If you can get creative with your care, or do as much preventative care for your dog as possible, you can save yourself money in the long run. For more great canine tips, please read more from the New Life K9s blog.
 
---
Help save lives and donate to our cause!

New Life K9s places service dogs with veterans and first responders with PTSD at no cost to the veterans and first responders.