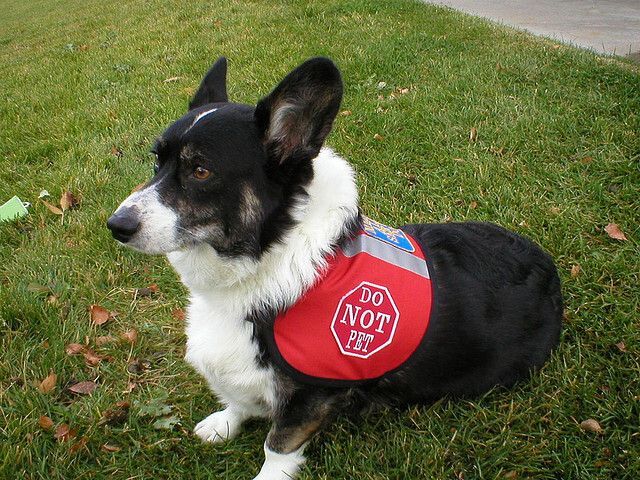 Service dogs are regulated on the federal level by the American Disabilities Act (ADA). However, each state can also have its own rules and regulations. These laws are designed to provide clear guidelines on the rights and protections of individuals with disabilities who work with service animals. 
The American Disabilities Act (ADA) is considered the foundational structure of service dog laws. State and local laws then go on to define service animals in a broader sense. Each state can establish custom regulations such as fees or criminal charges for service animal related offenses.
For example, some common laws are: fines for violating the rights of a disabled individual, injuring a service animal, or participating in service dog fraud. Additionally, depending on where you live, you may be required to hold a formal license for your service dog as well as carry an identification card. 
The attorney general's office of your state can provide specific information on state regulations. 
American Disabilities Act: Basics of Service Dog Laws
When you are a handler of a service dog, it can be helpful to know where service animals are permitted as well as where they are restricted. 
State and local governments, nonprofit organizations, and businesses that service the public, generally must allow service animals to accompany their handlers in public spaces. 
There are some exceptions for spaces that require high levels of sanitation such as operating rooms or burn units. Read here in more detail about ADA requirements.
Appropriate and Inappropriate Questions to Ask Service Dog Handlers 
Inquiries that are allowed regarding a service animal are:
Is the dog a service animal required because of a disability?
What work/task has the dog been trained to perform?
Questions which are not required:
Providing information about the disability 
Providing medical documentation
Special identification cards or training documents (depending on the state policies)
Demonstration of the dog's ability to complete the work/task
Reasons someone with a service dog can be asked to leave a premises:
If the dog is out of control and the handler does not take appropriate steps to take control
If the dog is not housebroken 
NOTE: If there is a legitimate reason to ask if a service animal be removed, the individual with the disability most be given the opportunity to obtain goods or services without the animal present
California Service Dog Laws
The state of California uses several laws to guide policy on disabilities in addition to ADA law. These laws include the Unruh Civil Rights Act, the California Disabled Person Act (CDPA), the Fair Employment and Housing Act (FEHA). 
A good rule of thumb when navigating these laws is if a federal and state law differ, whichever one offers greater protection will generally apply. 
Here are a few areas of protection that these laws include for individuals who use service dogs:
Equal access to housing accommodations
Trained service dogs can accompany disabled students or teachers on school buses 
Fines and criminal charges for intentional interference or harassment of service dogs and handlers
Fines and criminal charges for intentionally causing injury or death of a service dog
Blind or low vision individuals using a service dog have right-of-way on roadways 
Ramifications for fraudulent representation of a service dog including fines and/or jail time
Here you can learn more about California's laws in detail.
---
Help save lives and donate to our cause!

New Life K9s places service dogs with veterans and first responders with PTSD at no cost to the veterans and first responders.
---
Citations:
 California Service Dog Laws. ADA Service Animal Registry. (n.d.). Retrieved June 22, 2022, from https://adasaregistry.com/state-laws/california-service-dog-laws/ 
Chu, S. (2021, June 14). Service Animal Laws and Resources by State. Official ESA Registration - ESA & Service Animal Registry. Retrieved June 22, 2022, from https://www.supportdogcertification.org/article/service-animal-laws-by-state 
Service Animals. ADA 2010 Revised Requirements: Service Animals. (2011, July 12). Retrieved June 22, 2022, from https://www.ada.gov/service_animals_2010.htm