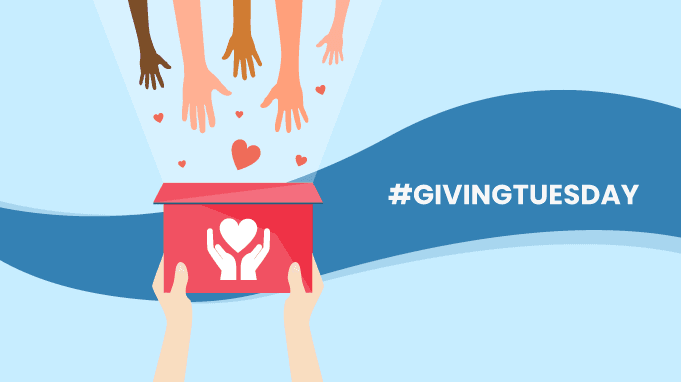 Have you ever heard of Giving Tuesday? Maybe it sounds familiar to you, but you don't know exactly what it is. Well, if you were ever curious about what Giving Tuesday is, why it's celebrated, or how you can give on this special day, then this blog post is for you. 
What is Giving Tuesday?
Giving Tuesday is a global event. Yes, global–it is celebrated all over the world as a "generosity movement" as described by Givingtuesday.org. 
As you may have deduced from the name, Giving Tuesday is a day set aside for giving back. 
A truly global movement that encourages people to give especially to nonprofit organizations. Giving Tuesday is always celebrated the Tuesday after Thanksgiving; this year, it will land on Tuesday, November 29th. 
A Brief History of Giving Tuesday 
Giving Tuesday started with the idea that people might want to give back after all the massive consumption that happens after Thanksgiving: Black Friday, Cyber Monday, and Small Business Saturday. 
In 2012, the United Nations Foundation in New York City introduced Giving Tuesday. The movement quickly gained momentum and went viral with the social media hashtag #givingtuesday. From here, it took off in popularity, solidifying the idea that people want to give back after all their holiday shopping.  
Since its inception, Giving Tuesday has spread not just all over the country, but all over the world. It is a global day with nonprofits at its center. There are usually a host of events and fundraisers that nonprofits host to bring awareness to their cause.
As of now, Giving Tuesday still runs strong, generating millions of participants and billions in donations.
How Can You Participate?
Giving Tuesday is a movement, and you can participate in countless ways. Offering your services, donating time, goods, or your skills. You can volunteer, organize a fundraiser, share your gratitude with others, spread the word, or contribute financially. Giving Tuesday is a day to help all of us remember that giving helps make the world a better place. 
Final Thoughts 
Whatever organization or cause you are passionate about, we encourage you to give if you can. Donating either time or money is not only great for the non-profit you support, but it will also benefit you by feeling a part of something bigger and supporting a cause that needs it. 
If you are interested in understanding more about giving to nonprofit organizations, please read our article about the benefits of giving to nonprofits.
If you are interested in giving to our organization, New Life K9s, please visit our How to Help page.
Please visit our Who We Are page to learn more about the New Life K9s mission of helping veterans and first responders with post-traumatic stress disorder (PTSD). 
And finally, if you would like to dive even deeper into learning about Giving Tuesday, please navigate to the Giving Tuesday FAQs page.
---
Help save lives and donate to our cause!

New Life K9s places service dogs with veterans and first responders with PTSD at no cost to the veterans and first responders.
---