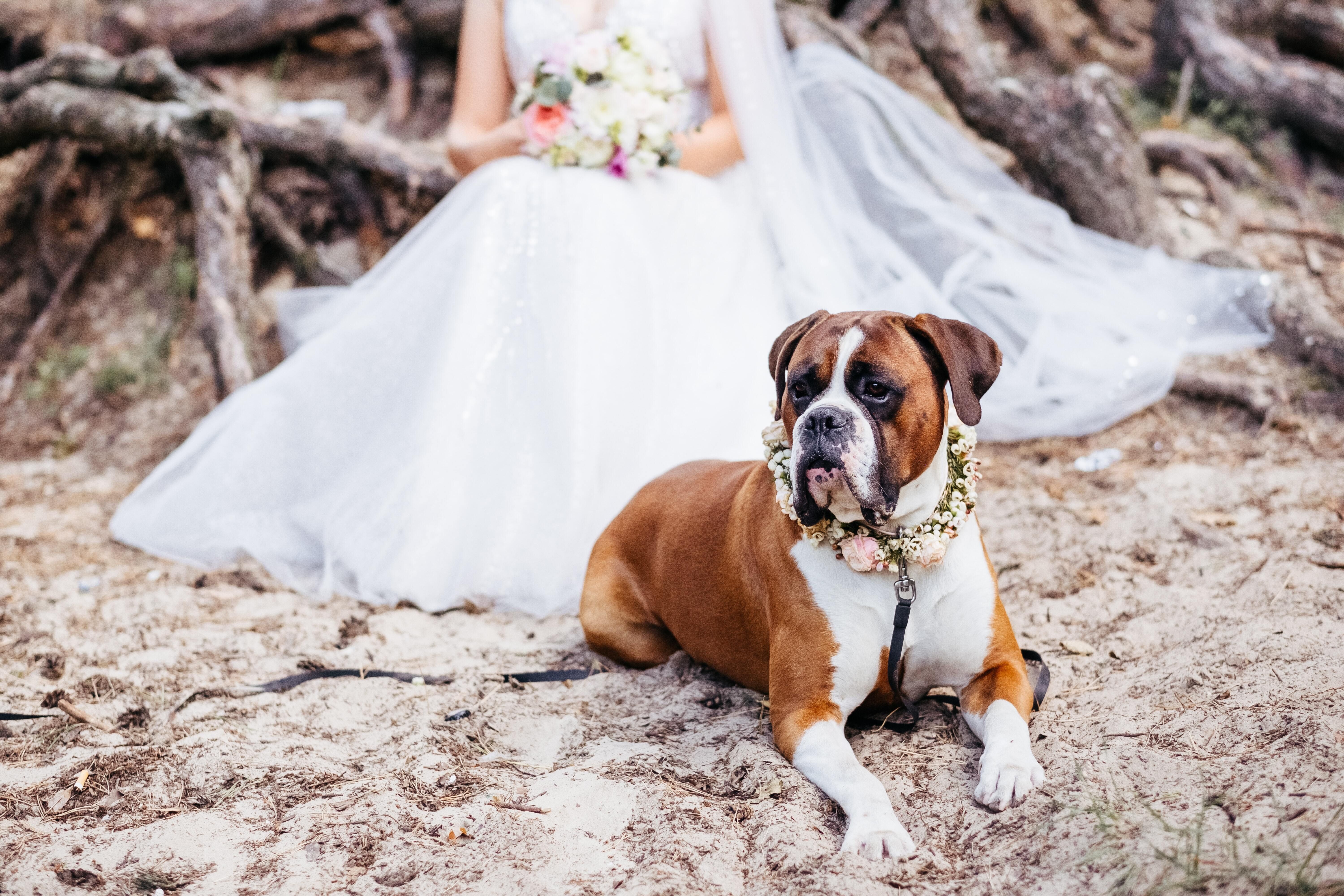 Having your dog in your ceremony can be a memorable experience. It's your wedding day, and you want all your friends and family to celebrate. Your dog is a part of your family too. Should you include him in the service and celebration? Before making that decision, consider a few essential tips before ordering a tux or dress for your dog. One of the first places you should contact is your wedding venue. Some venues may have rules for allowing pets on the premises. The venue may charge an additional fee for having your pet there. Please don't assume that having your pet with you on your special day is okay. If the venue allows pets, it would be a good idea to take your dog there several times before the wedding so he can become familiar with all the smells he will encounter.
Even more important is your dog's temperament and behavior. Not all dogs will do well in a wedding environment with many people and noise. Does your dog tend to be anxious or aggressive around large crowds? You may need to test this out before the big day. In addition, if your dog is typically calm, will he remain relaxed in a large crowd? As the bride or groom, you won't always be able to have your dog with you, so it's essential to have someone you trust to handle your dog when you cannot.
Furthermore, having a handler for your dog while he is at the wedding would be a good idea. Pick someone your dog is familiar with and who it listens to. Have this person practice with your dog before the big event. Another aspect of having your dog in your wedding is deciding the role your dog will play. Will your dog walk down the aisle with someone? Will he be the ring bearer or only be there for pictures? Try to pick a role you know your dog is comfortable with. Again, practicing this role with your dog beforehand would be beneficial.
Your wedding is a momentous day, but having your dog there can make it even more special. Ultimately, you want to be sure your dog is comfortable and safe. It may be helpful to have a plan in mind should your dog become overwhelmed in the wedding environment. It's always better to be over-prepared.