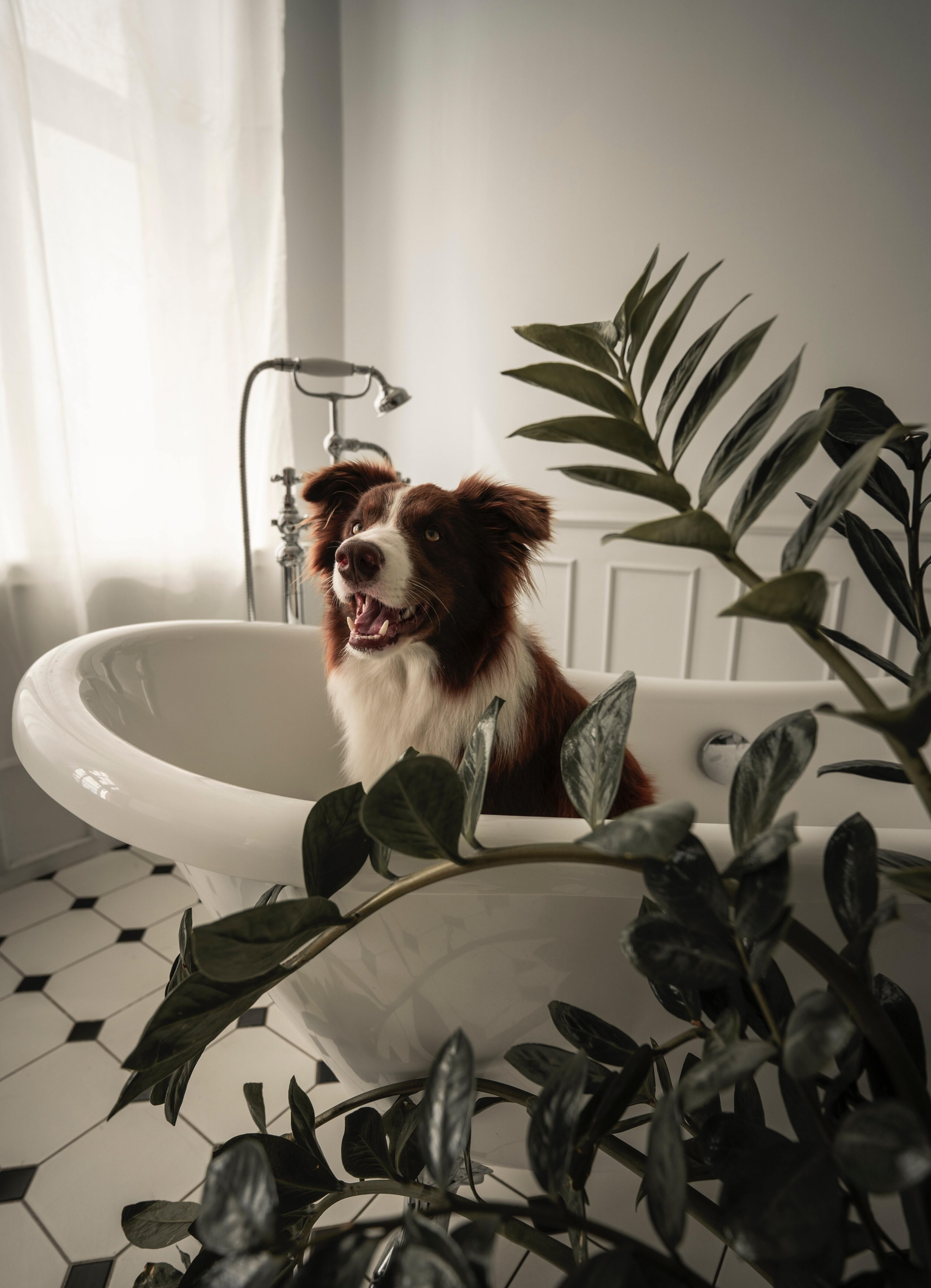 Have you ever seen those puppy spa treatments on social media? Well, I can tell you that watching Reign the dog @reignstormpit on TikTok is wholesome doggie grooming. The account revolves around the pit's spa-like bath time. In the videos, the adorable pup is getting scrubbed down, massaged, slicked with some moisturizer and given a treat by his owner. And after it's all said and done, there's an ear to ear grin from Reign.

Pampering your pup not only gives you a reason to treat your dog special, it can also be an incredible bonding experience. It'll also give you a reason to join in on the pampering fun!
In this post, we will tell you exactly how to give your dog a spa experience.
Gather your pampering gear
Before you can pamper your pup, you'll need to gather some supplies. Below is a short list of possible doggy spa supplies:
Towels
Shampoo and conditioner
Washing brush/ gloves
Soft silicone brushes that hold soap are great and they even sell pet grooming gloves.
Nail clippers
Brush/comb (There are a variety of brushes/combs for pets. You'll need to decide which is best for your dog based on fur length and texture. Some of the more common combs and brushes are slicker combs, de-matting comb and de-shedding comb.)
Ear wash/ear wipes
Toe bean moisturizer (Those pads on the paws need TLC too)
Nail brush (Use for brushing the bottom of the paws)
Yummy treats!
Other products to consider
Calming aid for dogs
Lick mat
Multi-purpose grooming wipes
Doggie toothbrush and toothpaste
If your pup hates these, you'll want to consider a calming aid for dogs or a lick mat to keep them calm and preoccupied. Consider skipping these all together if you want to pamper and relax your pup and keep the tedious stuff for regular grooming days.
Treating your dog to a spa day should be a special occasion. Make sure your pup is enjoying the experience, not anxious or frightened. We suggest staying calm and taking your time.
Set the scene
Dimming the lights and playing calming music are calming to dogs just like to humans. Creating a spa atmosphere will set a calming mood. You can also use candles and scents to set the scene for your pup. Just remember to use scents that won't be overpowering to your dog's excellent sense of smell.
Bath time
Wash as usual but take your time and message your dog in the bath. For messages, you can start with the head and move down the body, moving in a circular motion. Don't forget to scratch those sweet spots. This will not only feel good, but help you bond.
Grooming aftermath
After a gentle message and bath, towel your dog and take this opportunity to message as well. Afterward, you can gently clean their ears and teeth. And, of course, any trimming of fur and nails. This would be a good time to pull out the lick mat if your dog fears any of these processes. Don't forget the treats! The best part of a spa day is a treat. Make sure you have something tasty for your pup to enjoy at the end of your spa time and treat yourself too!

You can even do a quicker version of a spa day with dry shampoo options or doggy wipes. Just remember to take some time to pamper your pup and bond. Remember, just like humans, pets need some TLC too. We hope you enjoy your next spa day with your dog and follow New Life K9s blog for more great dog content.