The Wall That Heals is coming to San Luis Obispo County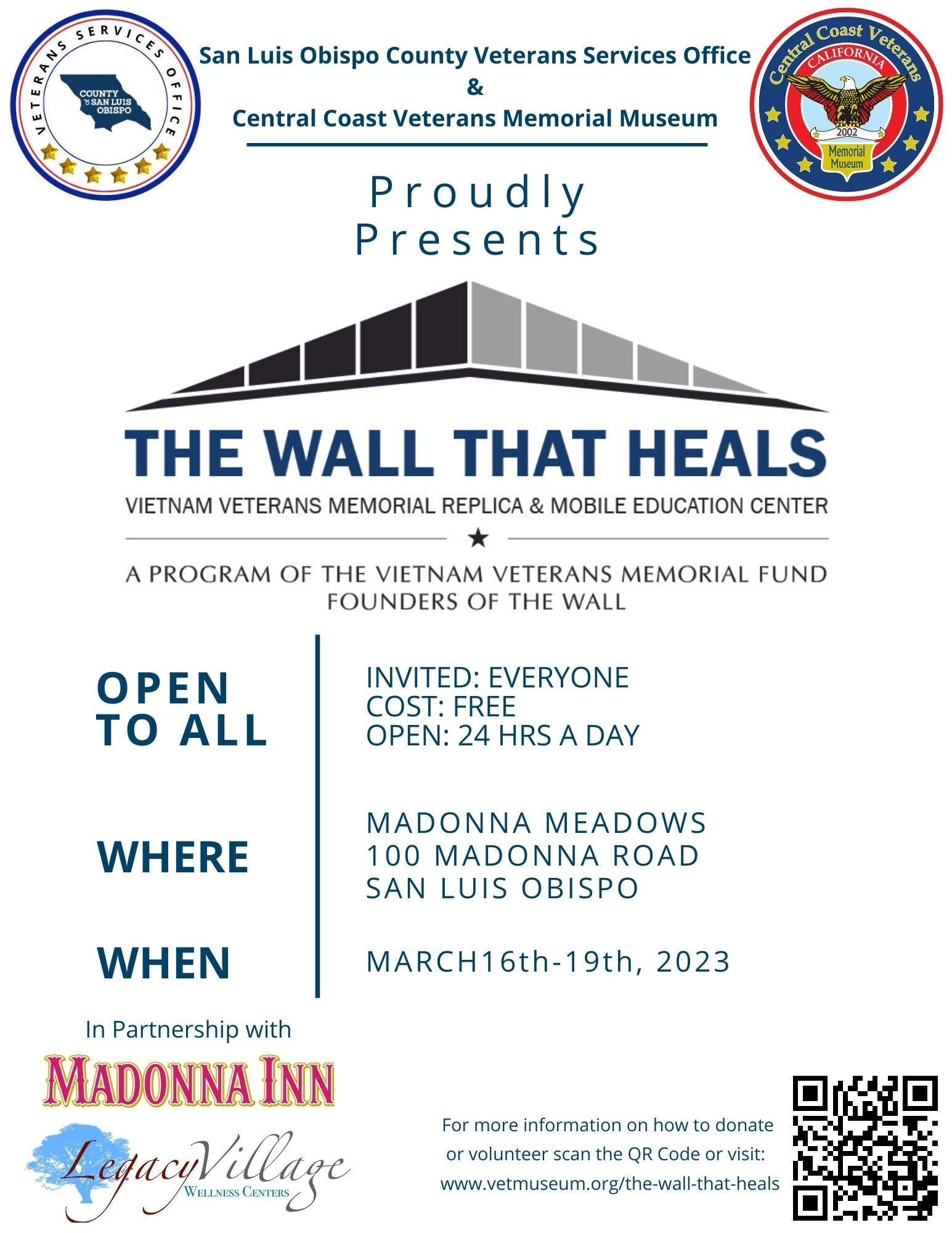 The Wall That Heals is coming to San Luis Obispo County, the official 375-foot travelling replica of the Vietnam Veterans Memorial in Washington D.C. bearing over 58,000 names of lives lost and honoring the 3 million Americans who served in the Vietnam War, on display at the Madonna Inn Meadows March 16 – 19.
The Wall That Heals event opens to the public shortly after midnight March 15th, available for viewing 24 hours a day. Closing on March 19th at 1:30pm. The Education Center will display multimedia tributes to Vietnam War veterans from SLO County and neighboring California Counties, along with history surrounding the Vietnam War. Group Tours, approximately one hour long, are available with priority sign-up online for schools and veterans' organizations/groups. If interested in a Group Tour, please schedule online before March 1, 2023.
The Wall That Heals – San Luis Obispo is co-hosted by the San Luis Obispo County of Veterans Services Office and the Central Coast Veterans Memorial Museum, a local 501c3 nonprofit museum, in partnership with the Madonna Inn and Legacy Village of Nipomo. This success of this event is made possible with generous support from many community sponsors and donors including Welcome Home Military Heroes, San Luis Ambulance, Band of Brothers Central Coast, Coastal Peaks Coffee, Meyers Drilling, SLO Elks, SLO Rotary, Splash Cafe, Old SLO BBQ, Connected Energy, StateWide and many others!
Event Overview (Full Event Schedule on event webpage):
March 14th - Motorcycle Escort from San Miguel to Madonna Inn
March 15th - Setup and Volunteer Training; Opens after midnight!
March 16th - Open to the public 24 hours; 10:00am Opening Ceremony
March 17th - Open to the public 24 hours
March 18th - Open to the public 24 hours
March 19th – Open to the public until 1:30pm Closing Ceremony