Join Gracie's Team!
Gracie needs YOU to be a part of her team of 22 people who will donate $22 for 22 months. Your contribution to this team of 22 will help to pay for all of Gracie's costs to become a service dog for a Veteran or First Responder with Post Traumatic Stress. 
The number 22 represents the 22 Veterans that commit suicide everyday in the United States. With your help New Life K9s is working to reduce this number by giving Veterans or First Responders a Service Dog at no charge.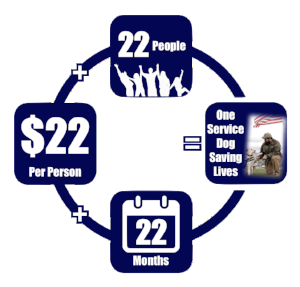 New Life K9s Newest Addition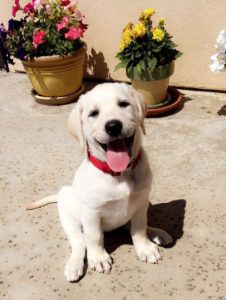 New Life K9s is happy to announce we have new puppies. Gracie is a white Labrador Retriever and was born on May 28th, 2017. Gracie is learning a lot at the California Men's Colony with her Inmate Trainers Tony and Denver.
A prison can be a very hard place to live and can affect the inmates in many ways. All of the service dogs in training create a healing atmosphere within the prison and many inmates lives are saved by the unconditional love these dogs bring. At the prison the dogs get constant attention from the inmates and get plenty of play time in their very own park.