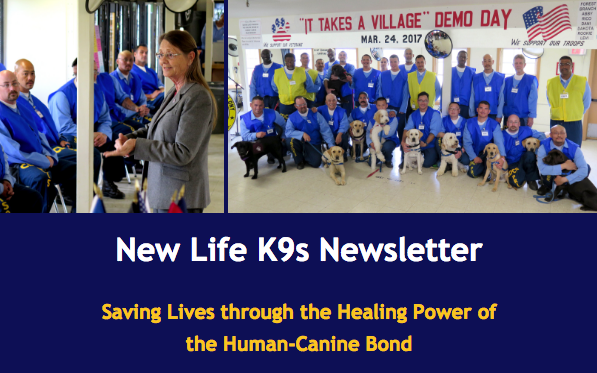 ---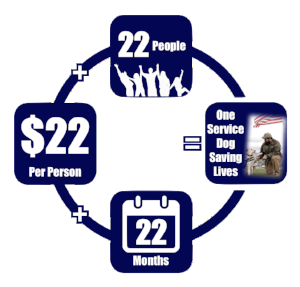 22 for 22
Check out our New Fundraising Page and Join a Team to Support a Service Dog in Training! Click Here!
New Life K9s is training service dogs for Veterans or First Responders with Post Traumatic Stress
New Life K9s Will:
Prevent Suicides
Enrich Relationships
Reduce Homelessness
Save Community Resources
Decrease the Need for Medications
OUR DOGS WILL BE PROVIDED AT NO COST TO THE VETERAN OR FIRST RESPONDER
---
Lessons on Parenthood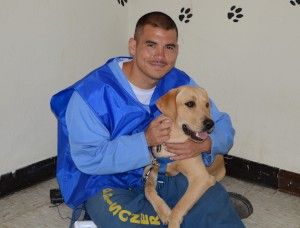 One of my goals as a dad is to constantly evolve as a parent. Having two children I have learned that part of that process is learning to be an effective communicator. Training dogs through positive reinforcement has aided me in improving my communication skills and unveiled my need to do so with my kids, as well. Learning to build a healthy bond with the dogs as I "listen" to them; by paying attention to their body language and actions helps promote feelings of safety and trust between us. Both canines and children respond to gentleness and care. Through my personal experience, I have realized that an aversive mindset and techniques do not work without leaving scars - emotionally, mentally, or physically - on the recipient. 
Learning to communicate in a positive way with an animal who cannot speak has helped prepare me to talk with my teenage daughter who sometimes finds solace in her silence. Working with a puppy who wants to get into everything reminds me to be patient and compassionate as I listen to the stories of my 10-year-old son.
As an incarcerated dad, this program has been a type of second chance for me. It has provided me with the opportunity to re-visit some areas I lacked in as a father before my incarceration. I get to practice being responsible and consistent for someone else as I care for this puppy. I am able to help people directly through my work with these dogs and set a good example for my kids, allowing me to show the ongoing change in my life.
This experience with NLK9s has really helped put things into a different perspective. The ups-and-downs remind me to be thankful because it is through these experiences that I grow. To make the most of each moment in the present, which quickly turns to the past, may be mirrored by those I influence; so if a caring, loving nature is what I hope to instill, I need to show that from a genuine heart.
NLK9s provides me with the unexpected blessing of the support from these dogs as I work through the memories that continue to plague me. Realizing that I failed my children as their dad, that I put them in a position to endure the consequences of my foolish choices is a sorrow I cannot explain. Working with Robbie, however, reminds me daily that it is not what happened yesterday but what we are going to do today that matters. My children Lilyana and Kristopher really prove this point as they give me their unconditional love, showing me they do not care about yesterday, but want me present for today.
Bonnie Bergin Visits the California Men's Colony Inmates!
The Inmates at California Men's Colony (CMC) held a Demo Day they named, "It Takes A Village". In attendance were inmate's families, CMC staff, New Life K9s staff, volunteer puppy raisers, breeders, and donors who have made New Life K9s mission possible. The concept behind the demonstration is that the amount of people that it has taken to make the program possible and the amount of lives that are positively impacted by the program is a very large village.
At the Demo, the inmates went through a day in the life of a Veteran or First Responder with post-traumatic stress. Each service dog took turns showing what they have learned to help a veteran. The dogs demonstrated how they can get medications or other needed items, help undress the veteran, calm them during symptoms of post-traumatic stress, and many other skills.
A surprise visitor, Bonnie Bergin, who is renowned for creating the concept of professionally trained service dogs, spoke to the inmates to show her appreciation for their work and give them helpful advice. (pictured top left) Bonnie founded Bergin University of Canine Studies, where our professional trainers Nicole Hern and Rosa Mendoza were trained. Bonnie Bergin has been a great influence on the New Life K9s program and everyone involved with New Life K9s is grateful for Bonnie's influence.
"Bonnie and Bergin University has continued to be a resource for New Life K9s since we began our service dog program. Bonnie's willingness to come all the way from Rohnert park to watch our demonstration and talk to the inmates left me feeling incredibly supported and encouraged." -Nicole Hern, New Life K9s' Director of Training
Bonnie Bergin, the founding president of Assistance Dog International, Canine Companions for Independence, and Bergin University Canine Studies said the following about the New Life K9s CMC Demo, "I've seen many many demos over the years and this is the best demo I have ever seen, ever!"
"Bonnie Bergin has taught me to be an effective speaker, outspoken, and to follow my passion. With her knowledge I have  learned the foundation of how canines learn and how to see them as more than just a dog, but a partner in life". -Rosa Mendoza, New Life K9s' Trainer