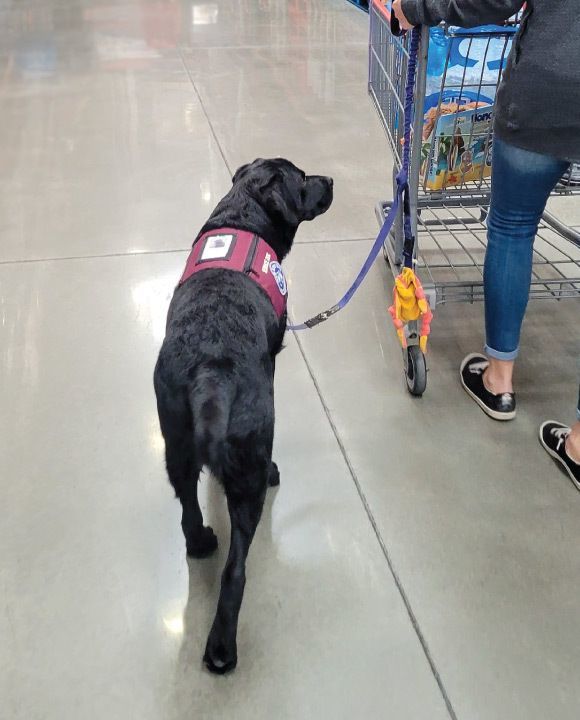 Service dog handlers hear a lot of questions, comments, and concerns daily. This type of attention, even if it's not intended to be discourteous, can be rude. Service dog handlers can get bombarded by curious onlookers with questions and this can get old, fast. Though some handlers may stop to answer a passerby's questions, please remember that handlers are just trying to go about their days without inquiries from complete strangers. Please try to see their point of view and be courteous at all times.
Please note that business owners or staff do have the right to ask two questions: 1. Is the dog a service animal required because of a disability? and 2. What work or task has the dog been trained to perform?
We will discuss some of the more inappropriate questions that you should not ask a service dog handler.
What's your disability, or what's wrong with you?
Inquiries pertaining to someone's disability are always incredibly impolite. Asking about a diagnosis or symptoms is inappropriate and intrusive. Please do not ask about a handler's personal medical history or the reason they need a service dog. 
What does your service animal do, or why do you need a service animal?
Asking what a service animal does goes hand-in-hand with asking about a disability. A service animal is an incredibly important part of a dog handler's life just like medical equipment: It would be like asking "what does your wheelchair do?" When put this way, you can easily see how impolite this question may be. 
Also, remember that service animals are used for both seen and unseen disabilities. Just because it is not obvious what a service dog is used for does not make it okay for anyone to inquire about it. 
Can I pet your dog? Or what's your dog's name?
Service dogs are working animals. When they're seen, they are most likely on duty and you should refrain from asking their name or anything else about the dog. This holds true about asking whether to pet the service animal. Try to think of a dog on duty as necessary medical equipment like a wheelchair or an oxygen tank. Distracting a service dog from their work can be detrimental to their handler, so please don't distract them. 
What breed is your service dog? 
Resist inquiring about the breed of a service animal and don't judge a service dog's ability based on their breed.
Dogs come in all shapes, sizes, and colors. Although breeds like Golden and Labrador Retrievers are more widely trained to be service dogs, any breed can be a service animal. Just because they may not meet your perception of a service dog, does not mean they are not fit to do service dog work or are not properly trained.
Other things not to do
Other things to avoid when seeing a service dog team are; pointing, making comments, taking pictures, staring, and talking to the service animal. Such actions can trigger stress on both the handler and the service animal. Remember that handlers have a right to respect and privacy.
Curiosity is a normal thing, but it does not mean you should act on it. Ask yourself, "how would I feel or react if someone asked me these questions?" If you wouldn't like to be asked these questions, please refrain from asking them. Instead, do some research on what you are curious about. You can read our New Life K9s blog and sign up for our blog posts to learn more about service dogs on a weekly basis.
---
Help save lives and donate to our cause!
New Life K9s places service dogs with veterans and first responders with PTSD at no cost to the veterans and first responders.
---
References
Grace, Kea. "10 Things Service Dog Handlers Want You To Know" Anything Pawsable. 8 September 2019.
https://anythingpawsable.com/10-things-service-dog-handlers-want-know/
 
Joubert, Amelia "5 Things You Shouldn't Do Around a Service Dog" Odyssey 16 Jan 2017. 
https://www.theodysseyonline.com/5-things-not-around-service-dog-team
 
O'Leary, Mary Beth "How is the Human Brain Similar to a Dog's" Elsevier. 2014 Feb 20
​​​​​​​https://www.elsevier.com/connect/how-is-the-human-brain-similar-to-a-dogs