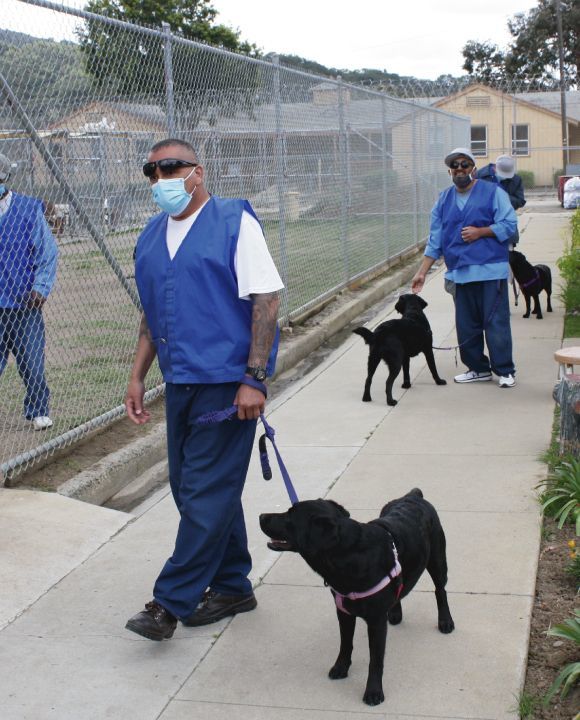 The partnership that New Life K9s has with three state prisons is truly instrumental to its ability to provide service dogs to individuals in need of support. These institutions are California Men's Colony in San Luis Obispo, Correctional Training Facility in Soledad, and Pleasant Valley State Prison in Fresno County. Not only is the outcome of this training program highly meaningful to the individuals receiving a service dog, but it is also a unique skill development program and a source of companionship and community development for the inmate handlers. 
Increasing Public Awareness 
Fortunately, though, New Life K9s is not the only program that has identified the value of having partnerships with correctional institutions. Similarly, to New Life K9s' humble origins that started from a chance encounter between Sister Pauline Quinn, a passionate service dog advocate, and the warden of California Men's Colony, another program at Temple University began as an undergraduate class tour of a state correctional institution and later evolved into an international movement of correctional and higher education partnerships. Today this is known as the Inside-Out Prison Exchange Program whose mission is to raise public awareness about crime, justice, and mass incarceration through criminal justice coursework. 
What is the Inside-Out Program?
The Inside-Out Prison Exchange Program brings together campus-based students at universities and incarcerated students for a semester-long course held in a prison, jail, or other correctional settings. Since its origin in 1997, this program has been replicated across the United States as well as in several other countries in various forms of educational and community-based programs. The Inside-Out program is founded on the belief that learning and higher education strengthen our society. 
History
The Inside-Out program originated when a small group of undergraduate students from Temple University went on a tour of the State Correctional Institution in Dallas, Pennsylvania. The tour was led by a professor in the university's criminal justice department, Lori Pompa. Here the students met with a small panel of incarcerated men to discuss issues relating to crime and justice. From this experience, one of the incarcerated panelists suggested that these discussions become a regular part of the course over a semester.
Lori took this idea to heart and developed a partnership with the Philadelphia Prison System to teach a course titled "The Inside-out Prison Exchange Program: Exploring Issues of Crime and Justice behind the Walls." Ultimately, this first brief collaborative conversation has stemmed from a vast system of 200 correctional institutions and higher education partnerships worldwide, over a thousand trained instructors, and more than 60,000 students who have benefited from the Inside-Out program.
 
---
Help save lives and donate to our cause!

New Life K9s places service dogs with veterans and first responders with PTSD at no cost to the veterans and first responders.
---
Citation: 
About Us. Out. (n.d.). Retrieved May 10, 2022, from http://www.insideoutcenter.org/about-inside-out.html