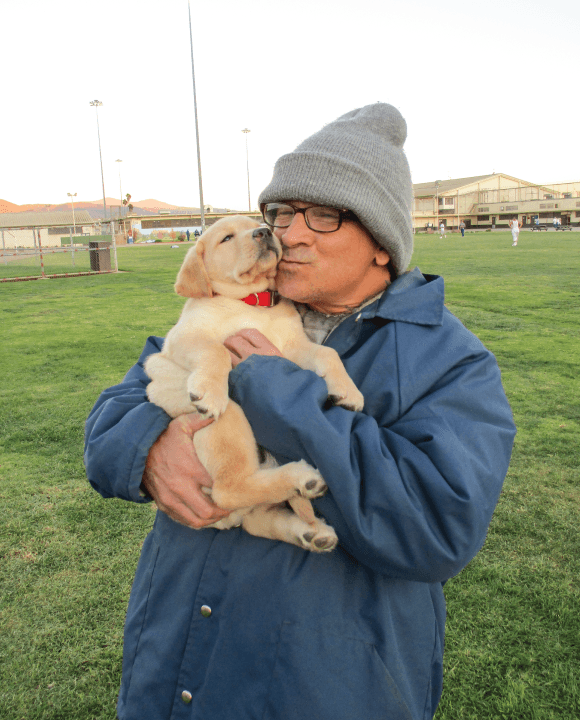 The New Life K9s service dog training program utilizes a rather unique organizational structure in that it partners with three state prisons: California Men's Colony in San Luis Obispo, Correctional Training Facility in Soledad, and Pleasant Valley State Prison in Fresno County. Through New Life K9s' program, inmates are taught to train service dogs and in turn, build long-lasting relationships with New Life K9 communities as well as their peers. New Life K9s program is just one of many opportunities for personal development and enrichment these prison systems offer with the goal of helping inmates and their families live more fulfilling successful lives. 
Programs like New Life K9s work to help incarcerated individuals develop skills and relationships that not only provide meaningful activities while in prison, but also help to foster emotional wellbeing, friendships, and life skills which can be applied and maintained upon release. While the service dogs trained through NLK9s ultimately provide support to veterans and first responders in need, even before they reach that stage of service, they are providing comfort and joy to their handlers and New Life K9s families. 
How does the New Life K9s program work and why is it so important?
A puppy in training with NLK9s is designated to two inmate handlers (sometimes more) during the week as well as to Volunteer Puppy Parents who look after the dogs on the weekend building community socialization. Because of the partnerships that exist with inmate communities, these dogs can receive more time and consistency in skill development than would be otherwise possible. This structure not only helps New Life K9s reduce program costs, but it allows for more dogs to be placed than what would be otherwise possible. 
With the opportunity of raising and training dogs, New Life K9s' program is highly sought after in the prisons. New Life K9s ensures that only the most qualified candidates get accepted into the program by interviewing potential handlers and doing background checks on all of them. Incarcerated individuals must be Disciplinary Report (115) free for twenty-four (24) months, have no sexual offenses, no crimes against animals, no history of recurring incidents of domestic violence, no history of child abuse, have a positive work history, and must be drug-free and agree to submit to random drug tests (to name a few).
What kind of other programs are available to inmates?
Programs at California Men's Colony (CMC) in San Luis Obispo
CMC is known in California for its wide range of programs supporting psychological treatment, education, and vocational development. Approximately 3,000 minimum to medium-security individuals are incarcerated at CMC according to 2021 reports. To learn more about the CTF facility, you can go to the California Department of Correction and Rehabilitation website page for CMC.
Some of the programs available to CMC's occupants are:
Academic and Creative: Adult Basic Education, Arts in Corrections. GED/HSD, Peer Literacy Mentor Program, eLearning, Accredited culinary arts program, and college degree opportunities
 
Special Interest: Prisoners Against Child Abuse (PACA), Criminal and Gangs Anonymous, Religious Community groups
 
Health: Substance Abuse Program, Victim Awareness, Drug and Alcohol Treatment Diversion, Youth Diversion, Anger management, Hospice support systems
 
PIA: Textile products including a glove factory, jacket line, T-shirt line, and silk screening; Knitting Mill, Laundry, Shoe Factory, Specialty Printing Plant, NOMEX firefighting clothing, Maintenance, and Warehouse. 
 
Vocational: Auto body repair, auto mechanics, electronics, machine shop, welding, office technology, building maintenance.
Correctional Training Facility (CTF) in Soledad
CTF is also known as Soledad State Prison and as of 2021 reports it holds approximately 4,700 minimum to medium-security occupants. This facility is the first of its kind in the United States with dedicated Veteran housing and rehabilitation programs for incarcerated Veterans with the ability to treat up to 1,200 Veterans. It also offers volunteer opportunities such as NLK9s and other mental health, self-help, vocational, and educational programs. To learn more about the CTF facility, you can go to the California Department of Corrections and Rehabilitation website for CTF. 
Some of the programs available to CTF's occupants are:
Academic and Creative:  Arts in Correction, Adult Basic Education, Voluntary Education Program, High School/GED, Literacy Program, Computer Assisted Education, College.
 
Special Interest/Volunteer programs: Fathers Behind Bars, Life Cycle, Avatar, Toastmasters, Alternative to Violence (AVP), Veterans Group, Higher Education Learning Program (HELP), Al-Anon, Criminals, and Gangs Anonymous (CGA), Incarcerated Vietnam Veterans of America, Native American, Operation New Hope, Rosary Group/Catholic Choir, Recycle, Friends Outside, Religious Services, Veterans Service Office, Organized Sports
 
Health and wellbeing: Balance Reentry Activity Group (BRAG), Narcotics Anonymous/Alcoholics Anonymous (NA/AA), Substance Abuse Program (SAP), Inner Circle (Men's support group), Criminal Thinking, Anger Management, Family Relations, Transitions – Pre-Release, WE CARE Juvenile Deterrent Group
 
Vocational: Electronics, Auto Mechanics, Building Maintenance, Carpentry, Computer Literacy, Electrical Works, HVAC, Masonry, Plumbing, Small Engine, Welding, Office Services.
Pleasant Valley State Prison (PVSP) in Fresno County
PVSP holds approximately 2,600 from minimum to maximum security occupants according to California Department of Corrections and Rehabilitation 2021 reports. PVSP is known for its substance abuse programs started in 2000 including community service opportunities for individuals with a history of substance abuse. 
This facility also transitioned some of its space into something called sensitive needs yard (SNY) which in essence functions as a protective custody case for individuals at risk so they can do their time safely. Some of these individuals might fall into the following categories: police informants, those who have a history of sex crimes (rape or molestation), those in the LGBTQ community including transgender individuals, or those who have dropped out of gangs and would otherwise be at risk if not protected. To learn more about the PVSP facility, you can go to the California Department of Corrections and Rehabilitation website for PVSP.
Some of the programs available to PVSP's occupants are:
Academic: Adult Basic Education (ABE) I, II, III; GED / High School Diploma Program; Voluntary Education Program (VEP); Elementary/Secondary Education Act (ESEA); College Program (Coastline); West Hills College (Face to Face); California Prison Industry
 
Technical Education: Electrical Works, Office Services and Electronics Technology, Small Engine Repair, Carpentry, Building Maintenance, Auto Body & Paint, Auto Mechanics, Welding, and Heating Ventilation and Air Conditioning (HVAC), Health Care Facility Maintenance (Medical Janitorial Services); and Building Maintenance.
 
Special interest/Health/Volunteer: New Life K9 and the Equine program, Community Service Crews (Cal Trans crew), Inmate Fire Fighters, Religious Services, Bicycle Refurbishing, Self Help/Support Programs (such as Lifer Group, Alcoholic Anonymous, Narcotics Anonymous, Veteran's Group, Criminal Gangs Anonymous), Handicraft Program, and Inmate Ward Labor. 
 
---
Help save lives and donate to our cause!

New Life K9s places service dogs with veterans and first responders with PTSD at no cost to the veterans and first responders.