Weekend Puppy Parent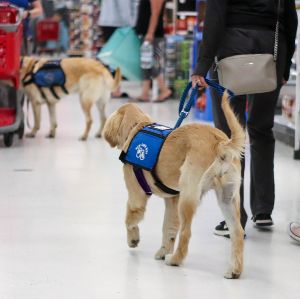 Thank you for your interest in being a Puppy Parent for one of our future service dogs!
What Do Puppy Parents Do?
Puppy Parents need to teach the dog to live as part of a family. This is for weekends only and all expenses are paid. The dogs in training are allowed in public places—including housing that does not allow pets. Taking the dog with you when you go out will ensure it receives necessary socialization and exposure to different sights, sounds, smells, surfaces, and situations. The level of socialization is gradually increased to ensure a positive association with the environment.
Puppy Parents pick up the dogs from the prison on Fridays and drop off on Sundays. We have puppy sitters if you are unable to pick up the dog one weekend. You can also partner with someone and pick up the dog every other weekend.
What Is Expected of Puppy Parents?
This volunteer opportunity is an ongoing weekly commitment. Puppy Parents are required to attend one monthly meeting and one monthly public outing with staff. You must also fill out weekly exposure forms and submit monthly pictures of your dog. Puppy Parents reinforce the dog's learning and keep the dog healthy and safe.
Your role in parenting a New Life K9s dog is a crucial part of our mission — saving Lives through the healing power of the human-canine bond.
---
Pet Resort Volunteer
Volunteer at Thousand Hills Pet Resort, where all proceeds from the resort go to support New Life K9s. Volunteers typically help with dog walking, supervising dog play yards, individual play time with dogs, and feeding dogs.
GENERAL OFFICE VOLUNTEER
Help Son Care Foundation's various nonprofits with regular paperwork, scanning, minor cleaning, and other office tasks while supervising New Life K9s' dogs and taking them on occasional walks or giving them play time.
Student Volunteer Internship Opportunities
Please contact Dillon by phone or email to learn about open intern positions. Intern positions are very flexible and can be adapted to fit the students learning needs. Our typical intern opportunities include marketing, research, writing, and bookkeeping related tasks.
805-596-0409 Ext. 1
Auto-Mechanic Volunteer
Volunteer at Mission Cars, where all proceeds from car sales go to support New Life K9s and other local nonprofits. Typically volunteers help with cleaning vehicles, and if you have mechanic experience, repairing vehicles.
Maintenance Volunteer
Volunteer at Son Care Foundation's 40 acre ranch completing a wide variety of maintenance tasks. Help with minor construction, plumbing, landscaping, fabricating, painting, electrical, and many other projects. We welcome all skill levels and will let you choose from a variety of projects. 
Group Volunteer Projects
Construct Shade Structures for Dogs
Paint Dog Houses
Create Dog Friendly Hiking Path
Clean Dog Play Equipment
General Landscaping & Weed Removal
Have Another Idea? Let us know!