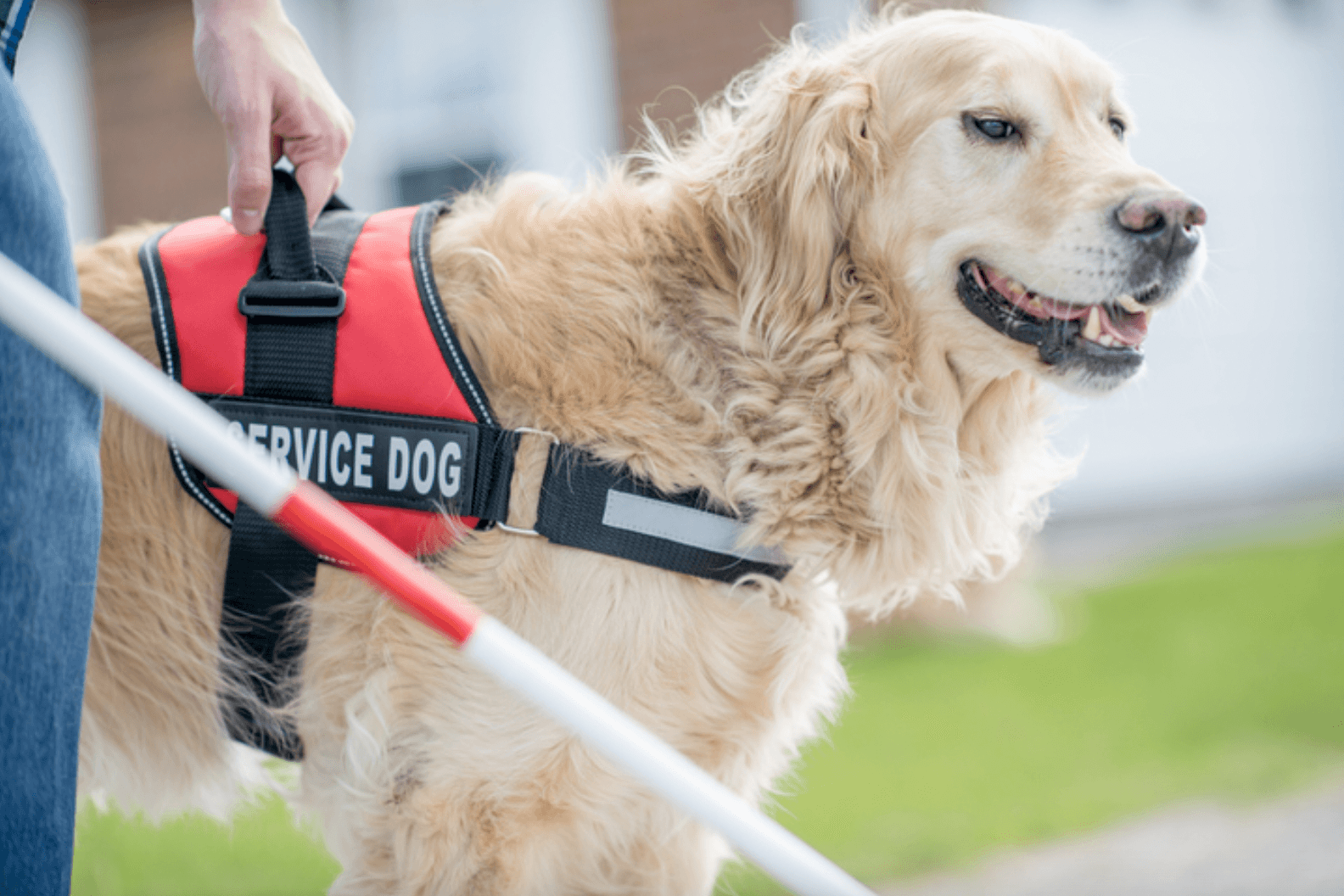 Service dogs come in many different breeds, from mixed rescue dogs to purebred poodles, but there are some breeds that are used more often for service dog work. In most cases, these popular service dog breeds have the right temperament, intelligence, and physical characteristics to be service animals.  
One key element that makes a good service dog is temperament. It is crucial that service animals have a friendly and calm temperament. Aggressive, anxious, traumatized, or reactive dogs are difficult to make into service animals. The other key pieces are intelligence, the ability to be trained, and size. Larger dogs are usually preferable for their ability to perform tasks such as bracing. 
Now that you know a few characteristics that make a good service dog, let's talk about breeds and what makes each of them preferable for the job of being a service dog. 
1. Labrador Retriever or Golden Retriever
Both Labrador and Golden Retriever are amongst America's favorite dog breeds. If you have ever had the pleasure of being around one of these cheery pups, you know why. Both Labrador Retrievers and Golden Retriever share a lot of characteristics that make them perfect for service dog work. 
Both of these breeds are traditionally friendly, loyal, and eager to please. They are also the right size for mobility assistance and retrieving objects. 
2. Labradoodle
Labradoodles are a mix of poodles and Labrador Retrievers. Because they are part Labrador Retriever, these dogs share all the same characteristics of the lovable lab. The poodle side makes them highly intelligent and hypoallergenic which is perfect for anyone with allergies.
3. Standard Poodle
There are three types of Poodles:  Standard, Miniature, and Toy Poodles. The Standard Poodle is the largest of the three types and is therefore best suited for service dog work.
Poodles make great service dogs because they are easily trainable, focused, and self-determined. 
4. German Shepherds
German Shepherds are the go-to pup for the police and military.
Their size makes them great as mobility dogs, they have a great a great temperament for police dog work, and they are task-oriented. 
5. Great Danes
Like the other dogs on our list, one reason Great Danes make good service animals is because of their grand stature. Their enormous size makes them ideal service dogs for mobility assistance. 
Like the other breeds on our list, Great Danes have the right temperament to do service animal work because they are intelligent, calm, and patient. They also don't need a lot of exercise which can be a plus for people who struggle with mobility. 
Final Thoughts
The breeds on this list are just the tip of the iceberg. There are many dog breeds that make great service animals. If you want to learn more about other service dog breeds, please read this article from Newsweek.
---
Help save lives and donate to our cause!

New Life K9s places service dogs with veterans and first responders with PTSD at no cost to the veterans and first responders.
---