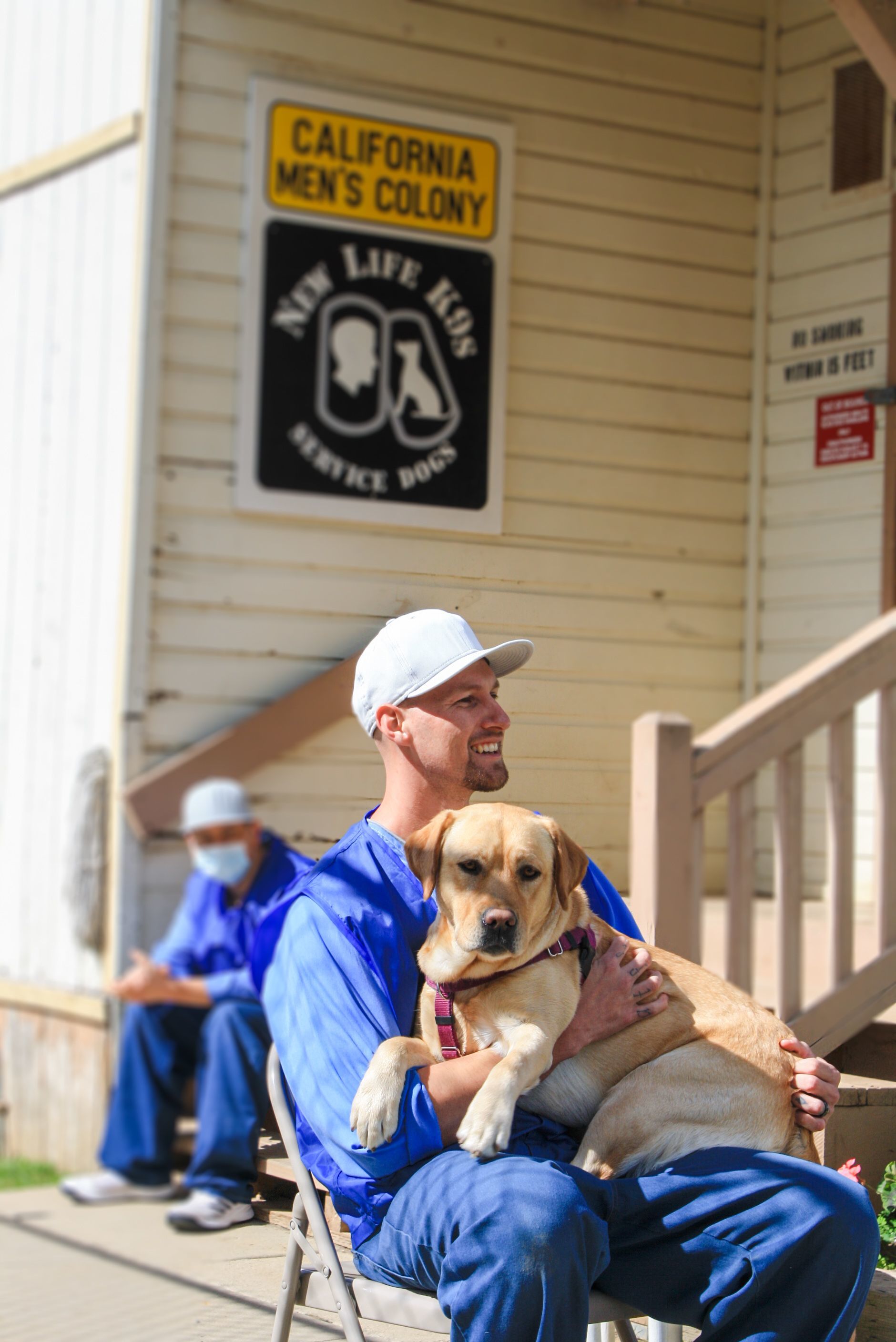 Dogs have a well-known reputation for having therapeutic benefits. From reducing anxiety, stress, and depression to living a longer life, having a dog has an array of emotional and health benefits for humans. The human-canine bond is powerful, so it is no surprise that dog programs inside prisons have similar benefits when helping incarcerated people.
The presence of dogs and the ability to work with them have had outstanding benefits on incarcerated individuals in correctional facilities. In this post we will identify four ways that dog programs benefit incarcerated people, and why these programs are a win-win.
There is a myriad of ways that a dog program in the prison system helps the incarcerated individuals who interact with them. Here are 4 benefits of having a dog program inside a prison:
1. Reduce Recidivism
One of the most important benefits that dog programs have in the prison system is that it reduces recidivism. Recidivism is the tendency of a convicted criminal to re-offend. Having a dog program in prison has shown that this rate goes down with individuals that work with dogs while they are incarcerated.
2. Improve Behavioral And Mental Health
Not only do dog programs reduce recidivism, but they can also help improve an incarcerated individual's behavioral and mental health. This includes a decrease in aggression, depression, isolation, and anxiety. They also help incarcerated people develop trust, empathy, patience, and understanding. Overall, dog programs have considerable positive effects on the behavior and emotions of the incarcerated individuals involved.
3. Provide Skills To Incarcerated Individuals  
Dog programs help incarcerated people while they serve their time and they also give them skills they can take with them into the world. Incarcerated individuals gain employable skills, helping them with life outside of prison, and thus making the transition from prison to freedom go much smoother. These skills include training skills, social skills, and responsibility. 
4. More Effective Rehabilitation
Dog programs help enhance and improve the lives of the incarcerated individuals. They can help boost morale, give them purpose, and give them a will to lead a better life. These positive feelings and the confidence that goes with them help them have a better life after incarceration.
But the benefits of dog programs in prisons go beyond helping incarcerated people. New Life K9s and similar programs also help people in need of a service dog. New Life K9s focuses on teaching service dogs to place them with veterans and first responders with PTSD. In this way, both parties benefit: incarcerated dog handlers get all the benefits listed above, and a person in need gains a well-educated service dog that will transform their lives for the better. One unique thing about our program is that it helps build relationships between our incarcerated dog handlers and the recipients of our dogs. 
Here at New Life K9s, we partner with three state prisons including California Men's Colony in San Luis Obispo, the Correctional Training Facility in Soledad, and Pleasant Valley State Prison in Coalinga. We have seen firsthand how the human-canine bond has transformed the lives of both our incarcerated dog handlers and the veterans and first-responders receiving dogs. We're proud of the work we do so please visit our Inmate Impact page to read testimonials from incarcerated individuals in our program and from prison staff.
---
Help save lives and donate to our cause!
New Life K9s places service dogs with veterans and first responders with PTSD at no cost to the veterans and first responders.
---
References:
Earl, Kevin. "Examining Dog-Training Programs In Prison: Success Found Among Confounding Factors" EBS Society, https://www.ebpsociety.org/blog/education/283-prison-dog-training#:~:text=There%20is%20evidence%20that%20shows,climate%20of%20the%20prison%20itself.
 
Criminal Justice. "Man's Best Friend: How Dog Training is Affecting Prison Rehabilitation." Alvernia University, 15 Oct. 2015.https://online.alvernia.edu/articles/how-dog-training-is-affecting-prison-rehabilitation/#:~:text=Prison%20dog%20training%20programs%20are,turn%2C%20enhance%20inmates'%20lives.
Montoya, Kacey. "Pawsitive Change Prison Program." Marley's Mutts Dog Rescue, 
https://www.marleysmutts.org/pawsitivechange/