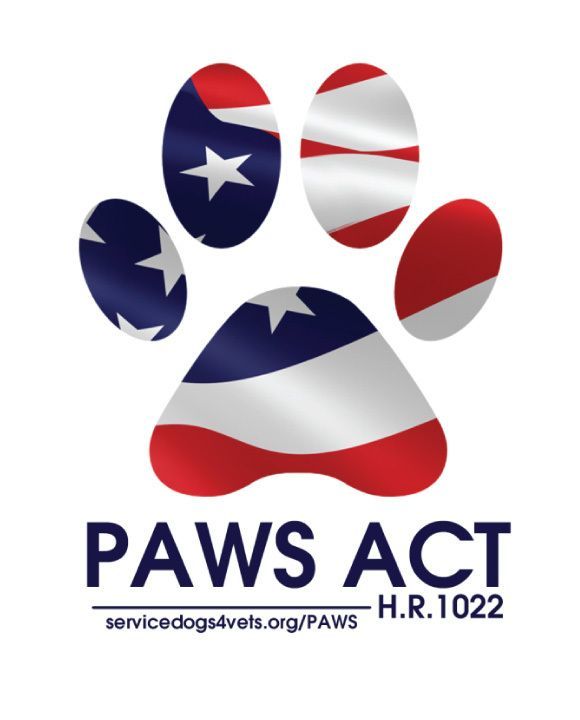 According to the United States Department of Veterans Affairs, an average of 20 veterans die from suicide per day. But veterans' access to life-saving service animals may have gotten a little easier. President Joe Biden signed the Puppies Assisting Wounded Servicemembers Therapy Act in early August. This five-year pilot program requires that the U.S. Department of Veterans Affairs provides grants to organizations that train service dogs and match them with veterans. This new act will help veterans gain access to the in-demand companion, the service dog.
So what does this mean for our veterans? How much money does this five-year program see? Who qualifies? Keep reading to find out. 
What is the PAWS Act?
On August 6, 2021, President Biden signed the Puppies Assisting Wounded Servicemembers Therapy Act, also known as the PAWS for Veterans Therapy Act. This act is a first step to giving veterans increased access to service dogs. As mentioned earlier, The PAWS for Veterans Therapy Act is a five-year pilot program that requires the VA to grant money to service dog training organizations to pair an eligible veteran with a service animal. The PAWS Act will give federal funding to these in-demand organizations. The $10 million dollar pilot program will begin on January 1, 2022, limiting the amount of grant money to an eligible veteran to $25,000.
More notably, the PAWS Act will amend previous laws that limited service dogs to veterans solely with mobility impairments. Prior to this act, the U.S. Department of Veteran Affairs, also known as the VA, only provided a service animal to veterans with mobility disabilities. The PAWS Act makes it possible for veterans to receive a service animal for post-deployment mental health conditions, such as post-traumatic stress disorder. 
The PAWS Act also requires that the VA cover the cost of providing a veteran with a service animal. The cost covered by this new bill includes veterinary costs, travel expenses, and hardware to dogs that take part in the program. 
Finally, the PAWS Act will allow veterans to receive dog training from nongovernmental non-profit 501(c)(3) organizations.
Who is Eligible?
Veterans that are eligible must
Be enrolled in the VA healthcare system
Have been diagnosed and treated for PTSD 
Can benefit from a service animal and 
Agree to complete training with an eligible organization.
To remain eligible, a veteran must see a VA healthcare provider every 180 days to determine if the veteran will continue to benefit from a service animal.
What organizations are eligible?
Eligible organizations include the following:
A nonprofit organization
Accredited by a widely known accreditation organization
Ones that provide service animals to veterans with PTSD
Ones that meet the standards of the Association of Service Dog Providers for Military Veterans
Experts on the needs of veterans suffering from PTSD
Ones that cover any excess costs that go beyond the grant amount
Ones that agree to replace or re-accept a service animal provided to a veteran
And ones that have submitted an application to the VA
The Paws Act has been a major victory for veterans in our country, especially those that suffer from mental illness. Studies have shown that service animals can drastically improve the lives of veterans with PTSD. Only time will tell how beneficial this act will become, but we have high hopes that this will open the doors to many more possibilities. For more in-depth information about the PAWS Act, please visit congress.gov.
---
Help save lives and donate to our cause!
New Life K9s places service dogs with veterans and first responders with PTSD at no cost to the veterans and first responders.
---
References
Kellner, Sara "Biden Signs U.S. Rep. Elissa Slotkin's PAWS for Veterans Therapy Act into Law" Livingston Daily. 25 August 2021.
https://www.livingstondaily.com/story/news/local/community/livingston-county/2021/08/25/paws-veterans-therapy-act-slotkin-biden-law/5592741001/
 
"Puppies Assisting Wounded Service Members (PAWS) Act H.r. 1022." Association of Service Dog Providers for Military Veterans
https://servicedogs4vets.org/paws/
 
S.951 PAWS Act of 2021. Congress.gov
https://www.congress.gov/bill/117th-congress/senate-bill/951